Great St. Mary's Church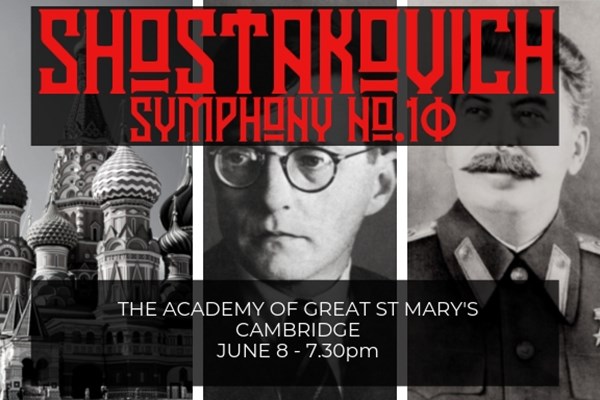 Sat 8 June
Academy of Great St Mary's
Academy of Great St. Mary's Orchestral Concert
Shostakovich: Symphony No. 10
Sibelius: Finlandia

Conductor Adam Pounds

The 10th symphony is perhaps Shostakovich's greatest achievement. This 'tour de force' was first performed in 1953, the same year as the death of Stalin. The first movement is extensive and shows a brilliance of both development and orchestration. From the opening dreamy but unsettling theme in the basses, the listener (and performer) are taken on a journey that is full of reflection exuberance and energy. The tenth symphony is truly a great work worthy of its elevated position in the musical canon.
Times
Sat 8 June at 7:30pm
Venue
Great St. Mary's Church
Tickets
Block A - front nave £16 (concessions £14) Block B - rear nave £14 (concessions £12) Block C - side aisles £10 (concessions £8) Block D - by the wall £7 (no concessions)
Great St Mary's can be found on the Market Square in the centre of Cambridge, also opposite King's College if you arrive from King's Parade. Our postcode is CB2 3PQ however only unloading of cars is allowed outside the church or, if disabled with a permit you may park for a short period in the bays provided.
The nearest car parks are both within 200 yards of the church at the Grand Arcade (also known as Lion Yard car park) and at Park Street near the Round Church. The railway station is about a 15-minute walk. When you emerge from the station go straight ahead up Station Road until you reach the traffic lights at the Hills Road junction. From there, turn right and walk into the town centre on a straight road until you see the Grand Arcade on your left. Go through the arcade to reach the Market Square and you will see us there. The railway station is also shown on the map using the link above.
If you come into town by bus then the station is in Drummer Street almost opposite the Grand Arcade entrance.
The venue is wheelchair accessible and designated disabled-access seating is available. Please contact the box office for more information.
Address
Great St Mary's Church
The University Church,
Senate House Hill
Cambridge
CB2 3PQ
Get directions
Tickets
8 June

7:30pm

– 9:30pm approx

7:30pm

– 9:30pm approx

Buy tickets