West Road Concert Hall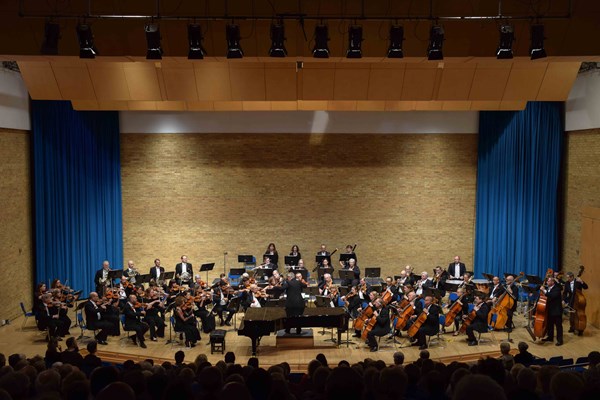 Sat 15 June
The Sampson Orchestra
Songs of Nature
Note: Tickets for this event are no longer available to buy online, but can still be bought on the door with cash.

The Hebrides Overture Mendelssohn
A Song Before Sunrise Delius
Piano Concerto No.2 Saint-Saëns
Symphony No.6 (Pastoral) Beethoven
Piano: Ariel Lanyi
Conductor: Darrell Davison

Join the Sampson Orchestra of Cambridge for an evening of music celebrating the natural world.

Mendelssohn's Hebrides Overture, initially inspired by a sailing trip to Tobermory on the Isle of Mull, reflects the composer's impressions of Scotland on a short tour in 1829.

Written in 1918 during a holiday to Biarritz, Delius' luminous Song Before Sunrise evokes an 'out-of-door feeling of dewy freshness' (Beecham).

Saint-Saëns' Piano Concerto No. 2 is possibly one of the most unusual piano concertos ever written having three movements in progressively faster tempos, each self contained and quite distinct from the others with no cross-references between them.

The concert concludes with Beethoven's 6th Symphony, known as 'The Pastoral', a charming and tranquil work in which he sought to promote the feeling of well-being associated with country life.
Venue
West Road Concert Hall
Tickets
£18, Concessions £16, Students £10, Under 18 £5
West Road Concert Hall is one of Cambridge's premier music venues. Ideally situated only minutes' walk from the famous Cambridge Backs and King's College, it is renowned for its superb acoustic qualities.
Please note there is restricted viewing from some of the balcony seating.
Accessibility
Three wheelchair spaces are available in the concert hall with easy access at ground floor level throughout the building.
The main entrance to the venue has a double width door, with a push button for automatic opening.
Address
West Road Concert Hall
11 West Road
Cambridge
CB3 9DP
Get directions