West Road Concert Hall, Cambridge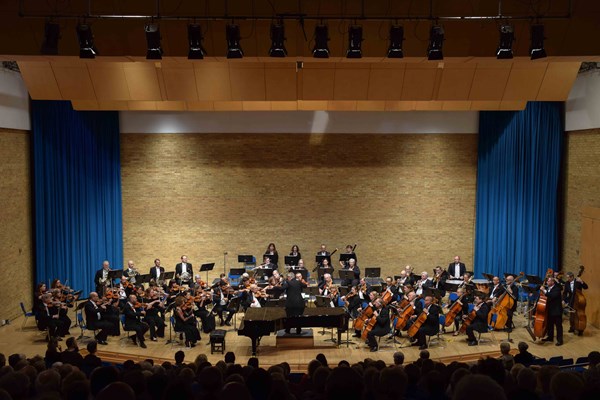 Sun 2 February
Sampson Orchestra
Russia - Romance and Revolution
The Snow Maiden Rimsky-Korsakov
Piano Concerto No.3 Prokofiev
Symphony No.4 Tchaikovsky

Piano: Christos Fountos
Conductor: Darrell Davison

The Samspon Orchestra of Cambridge presents a sparkling program of Russian music.

Rimsky-Korsakov's The Snow Maiden is suite of 4 pieces drawn from his opera based on a Russian fairy-tale – musical pictures of the coming of spring; the celebratory dancing of the birds; the stately entry of the ruling Tsar; and the dancing of the clowns in the ensuing carnival.

The most popular of Prokofiev's 5 piano concertos, the third reflects Prokoviev's desire to be a world-renowned modern composer yet be acceptable to the new Soviet conservative outlook. It contains a wide variety of styles and feelings and was completed in France in 1921 using material accumulated during the previous decade in Russia.

The first of Thacikovsky's three truly great symphonies, the 4th distils all the emotions which affect his complex and tortured personality – his hopes, his fears, his happy memories and his sad ones, his successes, his disasters – above all, the role of "fate" which ensures that he will never enjoy peace and happiness, the only escape from it being through day-dreams and visions of happiness.

Times
Sun 2 February at 7:30pm
Venue
West Road Concert Hall, Cambridge
Tickets
£18, £16 Concessions, £10 Students, £5 Under 16
West Road Concert Hall is one of Cambridge's premier music venues. Ideally situated only minutes' walk from the famous Cambridge Backs and King's College, it is renowned for its superb acoustic qualities.
Please note there is restricted viewing from some of the balcony seating.
Accessibility
Three wheelchair spaces are available in the concert hall with easy access at ground floor level throughout the building.
The main entrance to the venue has a double width door, with a push button for automatic opening.
Address
West Road Concert Hall
11 West Road
Cambridge
CB3 9DP
Get directions