West Road Concert Hall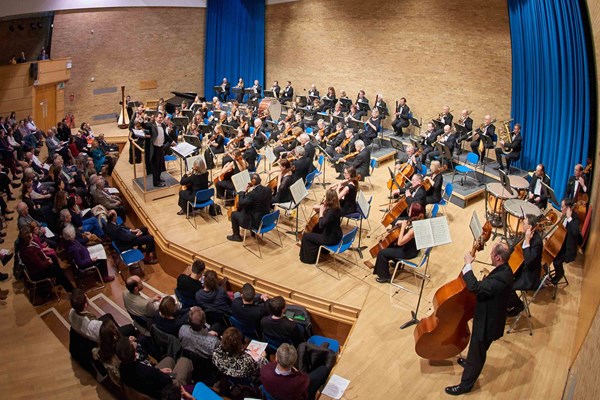 Sat 11 May
City of Cambridge Symphony Orchestra
Mahler Symphony No. 3
Contralto: Hannah Poulsom
Mahler Symphony no. 3

Contralto: Hannah Poulsom
St Catharine's College Girls' Choir
St John's College School Senior House Chamber Choir
Conductor: Robert Hodge

Mahler's Symphony No. 3 is big – very big. The orchestra includes quadruple woodwind, eight horns, two timpanists plus several other percussionists, two harps, a women's chorus, a children's chorus and a contralto soloist. It's also huge in length: almost one and three-quarter hours, comprising six movements. And the range in mood, style, volume and orchestration is prodigious. The enigmatic titles of the movements, such as 'What the flowers in the meadow tell me', 'What the animals in the forest tell me', and 'What Man tells me', are not prompts for imagined scenes or narratives. Commentators suggest they are vital supports for the creative process, like scaffolding for the construction of a building, to be ignored or removed once the work is done. The symphony may be considered as a composite musical journey, cross-references between the movements providing cohesion and assurance throughout this epic event. Those who know the work will delight in this opportunity to hear it again. Those who don't should seize this opportunity to engage with one of the most remarkable works of the early 20th century.
Times
Sat 11 May at 7:30pm
Venue
West Road Concert Hall
West Road Concert Hall is one of Cambridge's premier music venues. Ideally situated only minutes' walk from the famous Cambridge Backs and King's College, it is renowned for its superb acoustic qualities.
Please note there is restricted viewing from some of the balcony seating.
Accessibility
Three wheelchair spaces are available in the concert hall with easy access at ground floor level throughout the building.
The main entrance to the venue has a double width door, with a push button for automatic opening.
Address
West Road Concert Hall
11 West Road
Cambridge
CB3 9DP
Get directions
Tickets
11 May

7:30pm

– 9:45pm approx

7:30pm

– 9:45pm approx

Buy tickets