West Road Concert Hall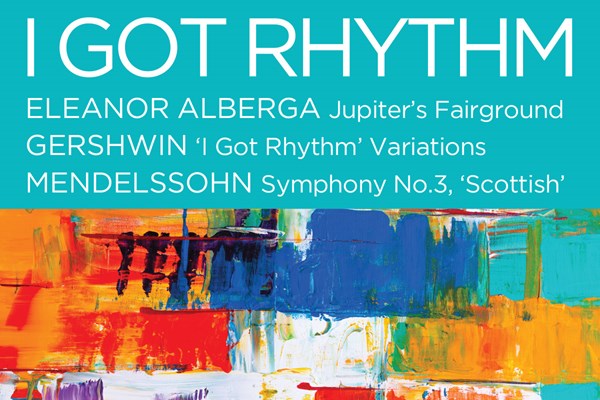 Fri 3 December
The Cambridge University Sinfonia
'I Got Rhythm' Variations
Please note: This performance was previously listed under the name: 'Mendelssohn's 'Scottish' Symphony and Eleanor Alberga'

Please visit the West Road Concert Hall website to view their full COVID 19 guidelines. No one should enter the building if they, or anyone in their household, have COVID-19 or are showing any symptoms


The Cambridge University Sinfonia return to West Road Concert Hall for their concert since March 2020, conducted by CUMS Conducting Scholar 2021-22, Jess Hoskins. The orchestra will also be joined by pianist William Hu, prizewinner in the CUMS Concerto Competition 2020, performing Gershwin's iconic 'I Got Rhythm' Variations, based upon the hit song from his musical, Girl Crazy. The concert opens with Jamaican-born, British composer Eleanor Alberga's Overture to Jupiter's Fairground. This rarely played work will be the first performance with a new critical edition of the score, completed especially for CUS. 
In the second half, the orchestra performs Mendelssohn's ever popular 'Scottish' Symphony. The composer began working on the symphony in 1829 during a trip to Scotland, though the symphony was not completed until 1842. Throughout the symphony, thematic content is derived from characteristic Scottish folk dances and rhythms. Despite the overriding concern for musical unity throughout the symphony, as evidenced by the interconnected movements and cyclic thematic return, the work displays and wide emotional scope. From the dark and turbulent opening movement, the joyous second movement and folk derived finale, this symphony is sure to delight!
Eleanor Alberga – Overture to Jupiter's Fairground
Gershwin arr. Farrington – 'I Got Rhythm' Variations
Mendelssohn – Symphony No.3, 'Scottish'
Jess Hoskins conductor
William Hu piano
Times
Fri 3 December at 7:30pm
Venue
West Road Concert Hall
Tickets
£18, £14, £10; Concessions £16, £12, £8; Students and under-18s £5
We are looking forward to welcoming back in-person audiences. If you are attending an event, please read the guidelines below.
-        No one should enter the building if they, or anyone in their household, have COVID-19 or are showing symptoms.
-        We encourage all those attending public events to take a lateral flow test up to 24 hours in advance to provide additional reassurance that you are not infected but asymptomatic. Test kits are widely available from pharmacies and test sites or you can order them online.
-        Face coverings are strongly encouraged to be worn wherever possible.
-        Suggested one-way systems are in place around the building.
-        Sanitiser dispensers are located in the foyer and around the building. All visitors are encouraged to use these on arrival and exit.
-        Doors are pinned open to minimise touchpoints and maximise airflow.
-        Maximum room occupancies are displayed.
-        The bar is currently closed.
-        Our air ventilation system is running at 100% fresh air.
-        At the end of event, stewards will ensure you are able to exit in a controlled manner.
If you have any concerns about the concert hall reopening please contact us on wrch@mus.cam.ac.uk
Address
West Road Concert Hall
11 West Road
Cambridge
CB3 9DP
Get directions
Tickets
3 December

7:30pm

– 9:15pm approx

7:30pm

– 9:15pm approx

Book now