West Road Concert Hall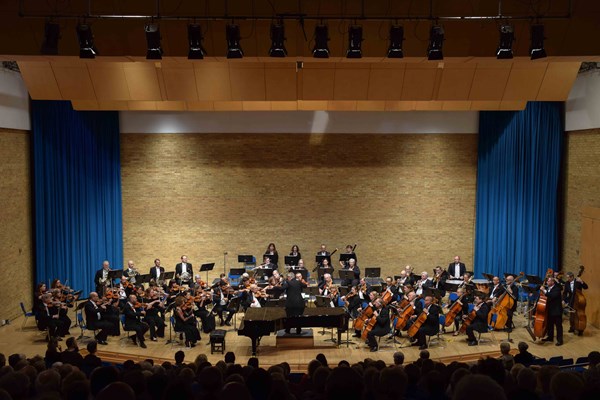 Sat 2 October
Sampson Orchestra
Glinka, Bruch and Dvorak
Glinka Ruslan and Lyudmila Overture
Bruch Violin Concerto
Dvořák Symphony No.8
Violin Joo Yeon Sir
Conductor Darrell Davison

The Sampson Orchestra of Cambridge returns to West Road with a short programme of enduringly popular works.

Glinka's Ruslan and Lyudmila overture opens the concert. From his second opera, based on the fairy tale which made Pushkin famous - a beautiful princess, Lyudmila, who is rescued by the brave warrior, Ruslan, after being abducted by a wicked dwarf – its sparkling freshness displays his vivid musical imagination to perfection.

The orchestra will then be joined by Joo Yeon Sir for Bruch's first violin concerto, one of the greatest ever written. Bruch was noted for his eminently singable melodies, showcased here in an appealing mixture of romantic sentiment and exuberant, virtuosic, instrumental display.

The concert closes with Dvořák's joyful eighth symphony. Dvořák set out to write a work "different from the other symphonies, with individual thoughts worked out in a new way." The result is a symphony with a feeling of great spontaneity and joie de vivre, filled with memorable tunes that flow effortlessly from one to the next.

Please note there will be no interval and the concert will finish at approximately 9pm.
Times
Sat 2 October at 7:30pm
Venue
West Road Concert Hall
Tickets
£18, £16 (concessions), £10 (students), £5 (Under 16)
We are looking forward to welcoming back in-person audiences. If you are attending an event, please read the guidelines below.
-        No one should enter the building if they, or anyone in their household, have COVID-19 or are showing symptoms.
-        Face coverings are strongly encouraged to be worn wherever possible.
-        Suggested one-way systems are in place around the building.
-        Sanitiser dispensers are located in the foyer and around the building. All visitors are encouraged to use these on arrival and exit.
-        Doors are pinned open to minimise touchpoints and maximise airflow.
-        Maximum room occupancies are displayed.
-        The bar is currently closed.
-        Our air ventilation system is running at 100% fresh air.
-        At the end of event, stewards will ensure you are able to exit in a controlled manner.
If you have any concerns about the concert hall reopening please contact us on wrch@mus.cam.ac.uk
Address
West Road Concert Hall
11 West Road
Cambridge
CB3 9DP
Get directions
Tickets
2 October

7:30pm

– 9:00pm approx

7:30pm

– 9:00pm approx

Book now