Peterhouse Theatre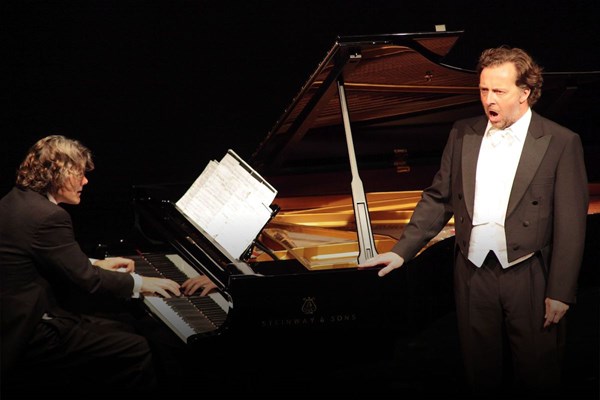 Tue 15 October
Camerata Musica
CHRISTIAN GERHAHER, baritone GEROLD HUBER, piano
Mahler
German baritone Christian Gerhaher has been described by the New York Times as 'the foremost lieder, or art song, singer of our time, able to blend poetic intelligence with endless shadings of vocal colour.' He returns to Camerata Musica with pianist Gerold Huber, a former student of Dietrich Fischer-Dieskau, in a programme consisting of three very different song cycles by Gustav Mahler. Lieder eines fahrenden Gesellen ('Songs of a Wayfarer') includes youthful foreshadowings of his First Symphony; Des Knaben Wunderhorn is a collection of folk tales; and Kindertotenlieder ('Songs on the Death of Children'), composed between 1901 and 1904, in which Mahler takes five poems, written 70 years earlier by Friedrich Rückert in response to the loss of two of his own young children, as the inspiration for an ultimately positive statement of the power of love to transcend grief.

Please note this concert is not suitable for children under the age of 12 years. Proof of age may be required on the door in such cases, and it is regretted that children under the age of 12 cannot be admitted.
Times
Tue 15 October at 7:30pm
Tickets
£59 (£49), £42 (£35), £29 (£23), Students £10
Peterhouse is the oldest of the constituent colleges in the University of Cambridge.  It was founded in 1284 by Hugo de Balsham, Bishop of Ely, on its current site close to the centre of the City.
The Peterhouse Theatre was built in 1883 to designs by one of the architectural masters of the Victorian era, Basil Champneys (1842-1935), whose other buildings include Newnham College and the Old Divinity School in Cambridge. Inspired by Palladio's Teatro Olimpico at Vicenza (1580-85), the fine acoustics and intimate atmosphere of the Peterhouse Theatre make it the finest venue for chamber music in Cambridge, and one of the top three such venues in the whole country.   
Address
Peterhouse Theatre
Peterhouse College
Cambridge
CB2 1RD
Get directions