West Road Concert Hall, Cambridge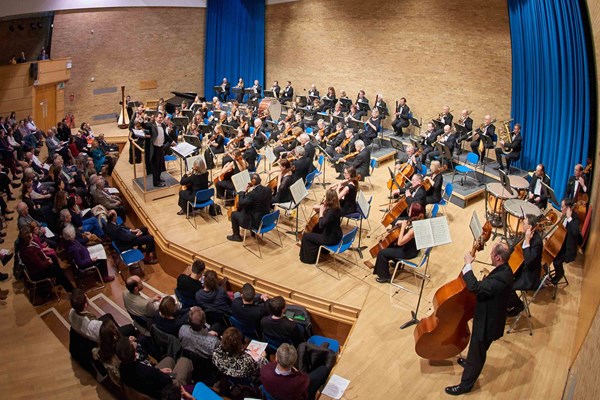 Sat 9 May
City of Cambridge Symphony Orchestra
CCSO: Wagner & Ravel
Wagner: Ride of the Valkyries
Ravel: Shéhérazade

Soprano: Susan Gritton
Conductor: Robert Hodge

Richard Wagner's Die Walküre is the second of the four operas comprising der Ring des Nibelungen, and the ride of the Valkyries is a striking moment in that opera. Immediately after its first performance, the public clamoured to hear it performed as a concert item, and although at first he would not allow that to happen, Wagner relented eventually.

This dramatic opening to the concert is followed by the more nuanced delights of Shéhérazade by Ravel. Rimsky Korsakov's Sheherazade served as an inspiration for Ravel, but otherwise the works are unconnected. The three songs comprising Ravel's version of the work will be sung by the internationally acclaimed soprano Susan Gritton, whose celebrated career embraces opera, oratorio and the concert platform as well as an illustrious discography.

Richard Strauss's Alpine Symphony is performed far less often than his other orchestral works, as it demands an orchestra of around 120 players, several performing off-stage. The scale and power of this symphony brought its composer notoriety and praise in equal measure. It describes a day's journey through wild Alpine terrain, an adventure Strauss actually experienced as a young man.
Times
Sat 9 May at 7:30pm
Venue
West Road Concert Hall, Cambridge
Tickets
£18, £16 (concessions), £8 (students), £5 (children)
West Road Concert Hall is one of Cambridge's premier music venues. Ideally situated only minutes' walk from the famous Cambridge Backs and King's College, it is renowned for its superb acoustic qualities.
Please note there is restricted viewing from some of the balcony seating.
Accessibility
Three wheelchair spaces are available in the concert hall with easy access at ground floor level throughout the building.
The main entrance to the venue has a double width door, with a push button for automatic opening.
Address
West Road Concert Hall
11 West Road
Cambridge
CB3 9DP
Get directions
Tickets
9 May

7:30pm

– 9:45pm approx

7:30pm

– 9:45pm approx

Buy tickets