West Road Concert Hall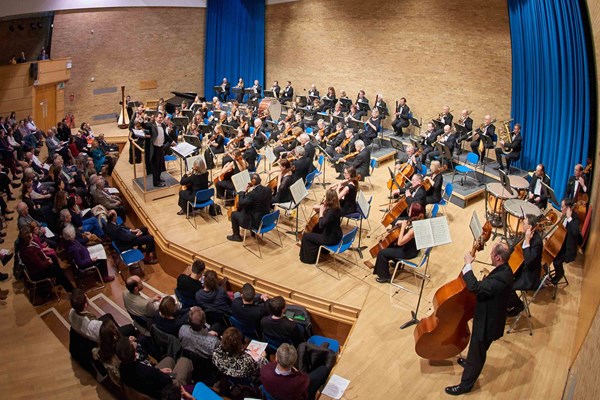 Sat 21 March
City of Cambridge Symphony Orchestra
CCSO: Rossini, Brahms & Sibelius
Rossini: Semiramide overture
Brahms: Piano Concerto no. 1
Sibelius: Symphony no. 5

Piano: Julian Trevelyan
Conductor: Robert Hodge

Rossini's overture to Semiramide is amongst his most admired works. It demands virtuoso playing form the orchestra, the wind in particular, and contains some of Rossini's most engaging melodies. Although it feels like an overture to a comedy, it actually precedes a tragic tale based on a novel by Voltaire. The conductor will be the winner of the CCSO's biennial Young Conductor's Competition.

Brahms piano concerto no. 1 is a firm favourite among performers and listeners. It started life as a symphony, but after Brahms had scored it for two pianos, he opted for the concerto format.

Symphony no. 5 by Sibelius, first performed in 1915, is amongst the best loved of 20th century compositions. For many it seems to paint a portrait of the dramatic Finnish landscape, while at the same time expressing some of the anxiety shared by the Finnish people during those turbulent years during which a world war was raging and there were ominous threats from neighbouring Russia on the brink of revolution. Even so, a note of optimism can be felt and shared, openly expressed in the magnificent hymn-like peroration.
Times
Sat 21 March at 7:30pm
Venue
West Road Concert Hall
Tickets
£18, £16 (concessions), £8 (students), £5 (children)
West Road Concert Hall is one of Cambridge's premier music venues. Ideally situated only minutes' walk from the famous Cambridge Backs and King's College, it is renowned for its superb acoustic qualities.
Please note there is restricted viewing from some of the balcony seating.
Accessibility
Three wheelchair spaces are available in the concert hall with easy access at ground floor level throughout the building.
The main entrance to the venue has a double width door, with a push button for automatic opening.
Address
West Road Concert Hall
11 West Road
Cambridge
CB3 9DP
Get directions
Tickets
21 March

7:30pm

– 9:45pm approx

7:30pm

– 9:45pm approx

Buy tickets