West Road Concert Hall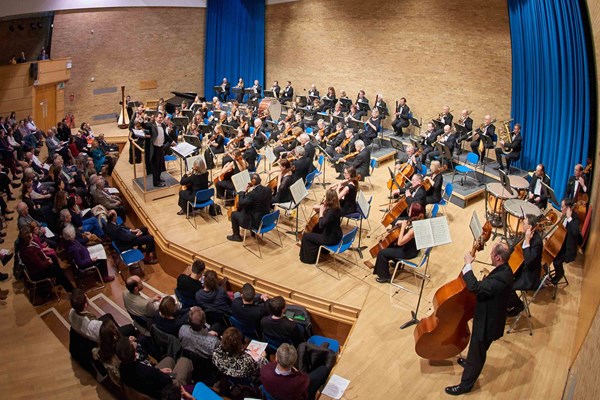 Sat 1 February
City of Cambridge Symphony Orchestra
CCSO: Janacek & Beethoven
Janáček Sinfonietta
Beethoven Symphony no. 9

Soprano: Clare Tunney, Contralto: Amy Holyland, Tenor: Peter Harris, Bass: Ossian Huskinson
Combined Choirs of Corpus Christi, Fitzwilliam, Girton and St Catharine's Colleges
Conductor: Robert Hodge

Janáček's Sinfonietta opens with brilliant fanfares for trumpets, tubas and timpani. These first two minutes of music, repetitive and wildly dramatic, are unique in the orchestral literature, and each of the five short movements has vivid colour and great depth of character.

Beethoven's last symphony, first performed in 1824, left some of the original audience bemused, others wildly enthusiastic. About twice the length of the average symphony, it still has the power to astonish listeners because of its musical magnetism and the forces employed, which include four soloists and choir. This was the first example of a major composer using voices in a symphony, and Beethoven's Ode to Joy, based on words by Schiller, is now the official anthem of the European Union. In this performance, the choir will be made up of singers from four Cambridge colleges, Corpus Christi, Fitzwilliam, Girton and St Catharine's.
Times
Sat 1 February at 7:30pm
Venue
West Road Concert Hall
Tickets
£18, £16 (concessions), £8 (students), £5 (children)
West Road Concert Hall is one of Cambridge's premier music venues. Ideally situated only minutes' walk from the famous Cambridge Backs and King's College, it is renowned for its superb acoustic qualities.
Please note there is restricted viewing from some of the balcony seating.
Accessibility
Three wheelchair spaces are available in the concert hall with easy access at ground floor level throughout the building.
The main entrance to the venue has a double width door, with a push button for automatic opening.
Address
West Road Concert Hall
11 West Road
Cambridge
CB3 9DP
Get directions
Tickets
1 February

7:30pm

– 9:45pm approx

7:30pm

– 9:45pm approx

Buy tickets