West Road Concert Hall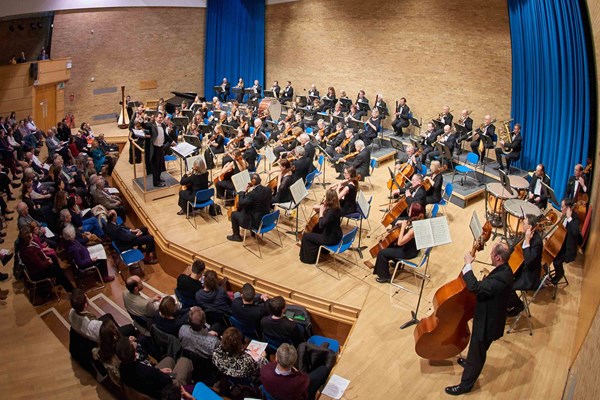 Sat 12 October
City of Cambridge Symphony Orchestra
CCSO: Holst, Rachmaninov & Bartók
Holst 'Hammersmith'
Rachmaninov Rhapsody on a Theme of Paganini
Bartók Concerto for Orchestra

Piano: Ugnius Pauliukonis
Conductor: Robert Hodge

Holst's Prelude and Scherzo 'Hammersmith' was originally written for military band, but was reorchestrated for the concert hall by the composer himself. It reflects the narrow streets and cheerful spirit of a part of London that was a favourite with Holst.

It will be followed by the immensely popular 'Rhapsody on a theme of Paganini' by Rachmaninov, essentially a one-movement piano concerto based on a hypnotic melody by the legendary violinist.

Béla Bartók's 'Concerto for Orchestra' was written at lightening speed shortly before the composer's death in 1945 and contains virtuoso roles for every instrument of the orchestra. Bartók hoped that it would establish his reputation in his newly-adopted homeland, America. It did just that, and has remained one of his most popular and approachable works ever since.
Times
Sat 12 October at 7:30pm
Venue
West Road Concert Hall
Tickets
£18, £16 (concessions), £8 (students), £5 (children)
West Road Concert Hall is one of Cambridge's premier music venues. Ideally situated only minutes' walk from the famous Cambridge Backs and King's College, it is renowned for its superb acoustic qualities.
Please note there is restricted viewing from some of the balcony seating.
Accessibility
Three wheelchair spaces are available in the concert hall with easy access at ground floor level throughout the building.
The main entrance to the venue has a double width door, with a push button for automatic opening.
Address
West Road Concert Hall
11 West Road
Cambridge
CB3 9DP
Get directions
Tickets
12 October

7:30pm

– 9:45pm approx

7:30pm

– 9:45pm approx

Buy tickets