West Road Concert Hall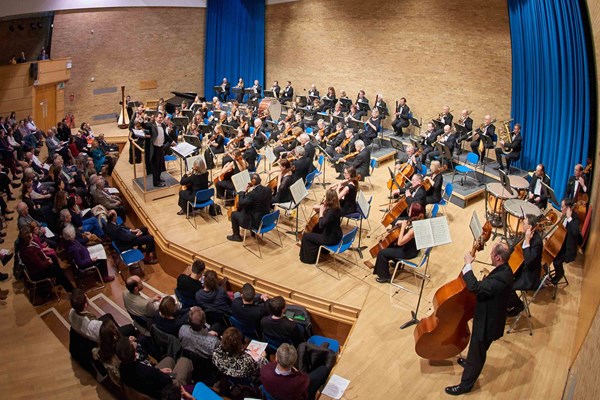 Sat 29 June
City of Cambridge Symphony Orchestra
Bernstein and Korngold
Violin: Júlia Pusker
Bernstein On the Town: Three dance episodes
Korngold Violin Concerto 
Korngold The Adventures of Robin Hood Suite
Bernstein On the Waterfront Symphonic Suite

Violin: Júlia Pusker 
Conductor: Robert Hodge

Both Bernstein and Korngold were American citizens of European/Jewish background. Both were hailed as musical child prodigies, and both made their fortunes in the glitz of Hollywood and New York. Bernstein was multi-talented: a composer, conductor and pianist of consummate skill; so much so, that demands on his time forced sacrifices now regretted by the musical world, as his compositions are comparatively few in number. Everyone knows 'West Side Story', but what of tonight's pieces, 'On the Town' and 'Symphonic Suite from On the Waterfront'? Both were well received and both deserve more airings. They show Bernstein's absorption of many musical styles, ranging from romantic, through jazz to the avant garde.
Korngold astounded the world with compositions written at the age of 12 and went on to become a prolific composer of film music, completing sixteen film scores in all, two of which won Oscars, 'The Adventures of Robin Hood' being one. His Violin Concerto, played in this concert by Júlia Pusker, who in the summer played the Dvorak concerto with CCSO to huge acclaim, has amassed a large and loyal following. No one can fail to be captivated by its flowing melodies and wistful allure.
Times
Sat 29 June at 7:30pm
Venue
West Road Concert Hall
West Road Concert Hall is one of Cambridge's premier music venues. Ideally situated only minutes' walk from the famous Cambridge Backs and King's College, it is renowned for its superb acoustic qualities.
Please note there is restricted viewing from some of the balcony seating.
Accessibility
Three wheelchair spaces are available in the concert hall with easy access at ground floor level throughout the building.
The main entrance to the venue has a double width door, with a push button for automatic opening.
Address
West Road Concert Hall
11 West Road
Cambridge
CB3 9DP
Get directions
Tickets
29 June

7:30pm

– 9:45pm approx

7:30pm

– 9:45pm approx

Buy tickets