University Arms Hotel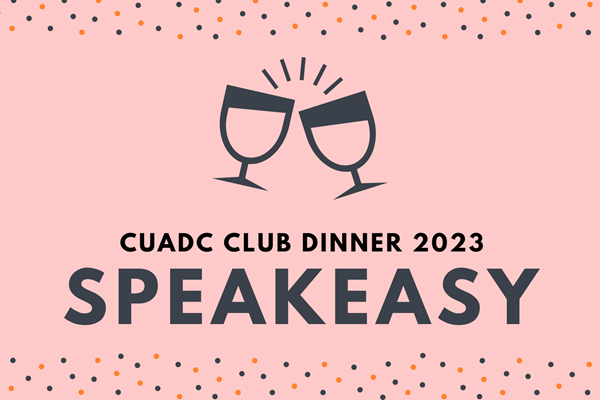 Sun 12 February
Cambridge University Amateur Dramatic Club
CUADC Club Dinner 2023: Speakeasy!
You must be a CUADC member to purchase a ticket. This can be purchased at membership.cuadc.org/signup. To enable booking, please sign in to your ADC account. 

You must have pre-registered with the CUADC committee to attend. If you have not yet done so, please contact CUADC to confirm if any additional places are available before purchasing a ticket.


'Party like it's prohibition'

CUADC Club Dinner is the highlight of the Cambridge Theatre social calendar! Join us for an evening of pure, theatrical decadence. You'll get a three-course meal in the ballroom of the University Arms Hotel, and lots of free wine (if you'd like!). Then we shall stumble back to the ADC Bar for afters!

All tickets include a three-course dinner and soft drinks in the ballroom of the University Arms. Drinking tickets also include a package of alcoholic drinks, to include a glass of prosecco on arrival, and wine with dinner, plus free wine in the ADC Bar!


Sales for this event will close at 5pm on Sunday 29th January. After this time, refunds will not be accepted. 



Times
Sun 12 February at 7:00pm
Venue
University Arms Hotel
Tickets
Standard Drinking Ticket - £58 Standard Non-Drinking Ticket - £48 Committee Drinking Ticket - £38 Committee Non-Drinking Ticket - £28
Tickets
12 February

7:00pm

– 11:00pm approx

7:00pm

– 11:00pm approx

Book now